What a busy day! But all in nice ways. It's late now, and I'm sitting at my desk, sipping a cold glass of mugicha and savouring the warm glow of knowing that the English cupboard is clean…. while trying to ignore the cold chill of knowing that the English ROOM is not….
I need to find a happy distraction! Luckily this has been a week full of wonderful discoveries.
Discovery 1 – Terrifying Tea Ceremony Lady isn't scary at all when she's at home!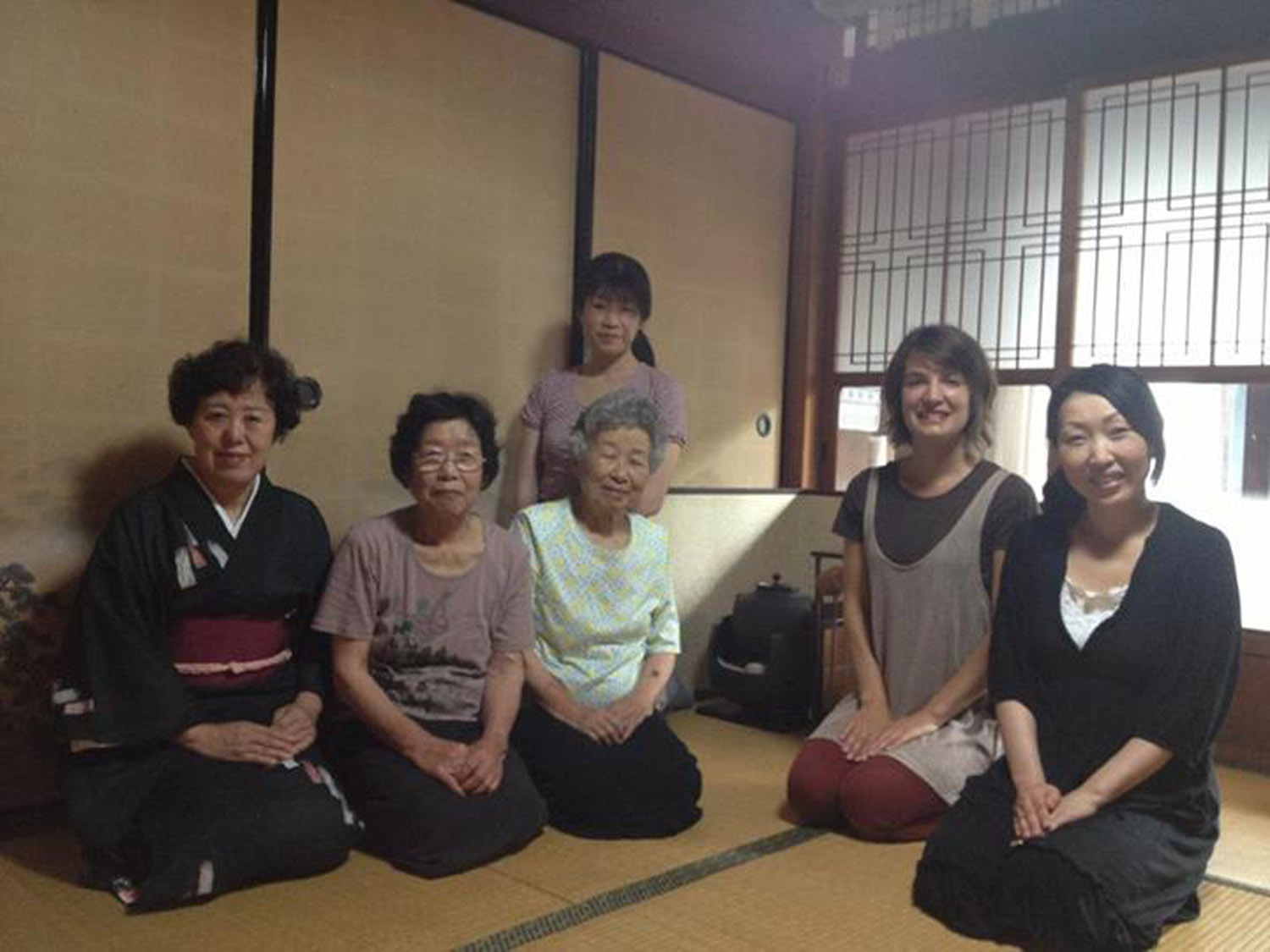 Her hair still doesn't move very much, though!
The Anglo-Saxon in the photo is Kelpie, our friend. She is now a level-one qualified teaologist, and is now permitted to fly solo (with the lower-level ceremonies).
Tea Ceremony has not been the stiff, difficult experience I was afraid of; it's all turned out to be wonderfully gossipy and warm! These ladies are, of course, extremely beautiful in their movements (not to mention extremely kind about my maladroit efforts to imitate them) but they're also super-cheery and happy to chat while we practice.
Discovery 2 – This little nest of gargoyles directly above the door of one of my favourite glass shops!

It's summer in Nagahama and the swallows are raising their clutches in traffic lights, street signs and every other cranny they can manage to stuff mud into! I love watching the babies squeak and wheeze whenever anything comes near them (then collapse with exhaustion at the effort of holding up those enormous heads), but I love watching their parents even more. Swallows really seem to ENJOY flying, don't they? The way they twist and swoop between the buildings to feed their asthmatic progeny is one of the more beautiful parts of summer.
Discovery 3 – This guy: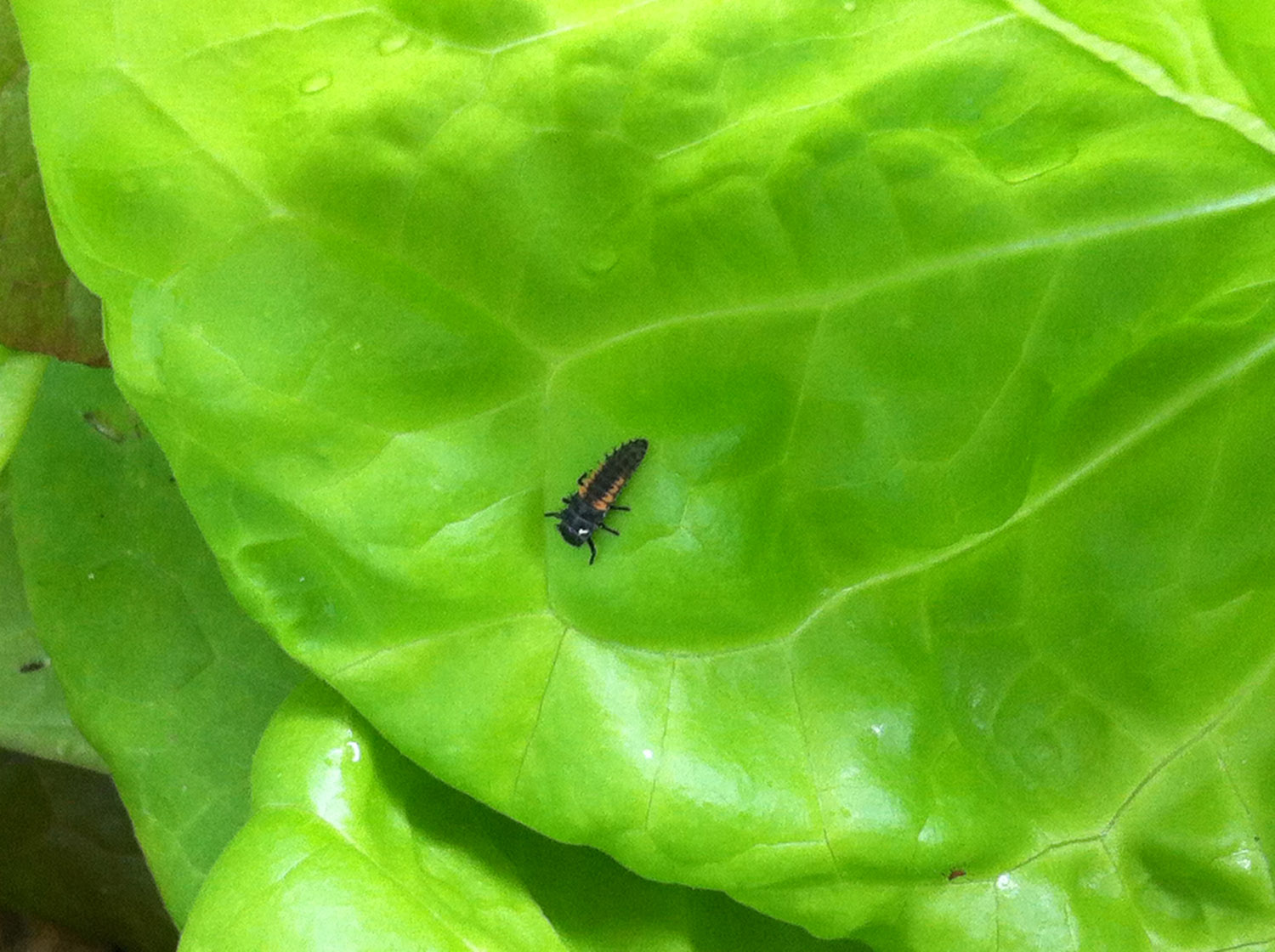 Within the peaceful-seeming collection of pots in my balcony garden, lurks this merciless predator, existing only to slaughter and consume.
THANK HEAVENS!
Since the weather warmed up, my aphid problem has been getting ridiculous. I've been having to wash the lettuce four times before we can finally eat it, and the health of my plants has been badly affected. I prefer to be a lassaiz-faire gardener wherever possible, but I was actually getting to the point where I was about to mix up some soap spray and declare war on the little swine. Until my secret weapon appeared, in the form of that baby ladybeetle!
Like baby swallows, baby ladybeetles aren't the most beautiful of young creatures, but no mother's heart could have swelled with more joy than mine when I spotted that particular little one. Since then, more have started appearing and my aphid problem should be sorted in a matter of weeks.
Discovery 4 – I love Pilates!
I know, right? What's next, Tai-Bo? Seriously, though, Pilates is the good stuff. I know I look fairly healthy (and, in general, am) but I have some long-term pain issues that sometimes put a fairly serious crimp in my efforts to be awesome. Basically, where your spine is supposed to curve in your upper back and neck, mine goes straight up and down; which makes my posture look SPECTACULAR at ceremonies, but which causes me a lot of everyday pain and is a big reason why I drink so much wine in the evenings.
In an effort to STOP drinking so much wine in the evenings, I've been working hard with a physio  for some months now, and at his urging, finally took a Pilates class.
HOLY CRAP.
Pilates is about gently stretching and exercising your limbs, while ripping the HELL out of your core. This might not seem applicable to my neck and shoulder issues, but basically everything you can do to strengthen your core will help with your overall posture. I need to keep working my neck and shoulders with the Physio, but I think it's safe to leave my lower back and core in the hands of Pilates for now.
Discovery 5 – Tadpoles in the paddy fields.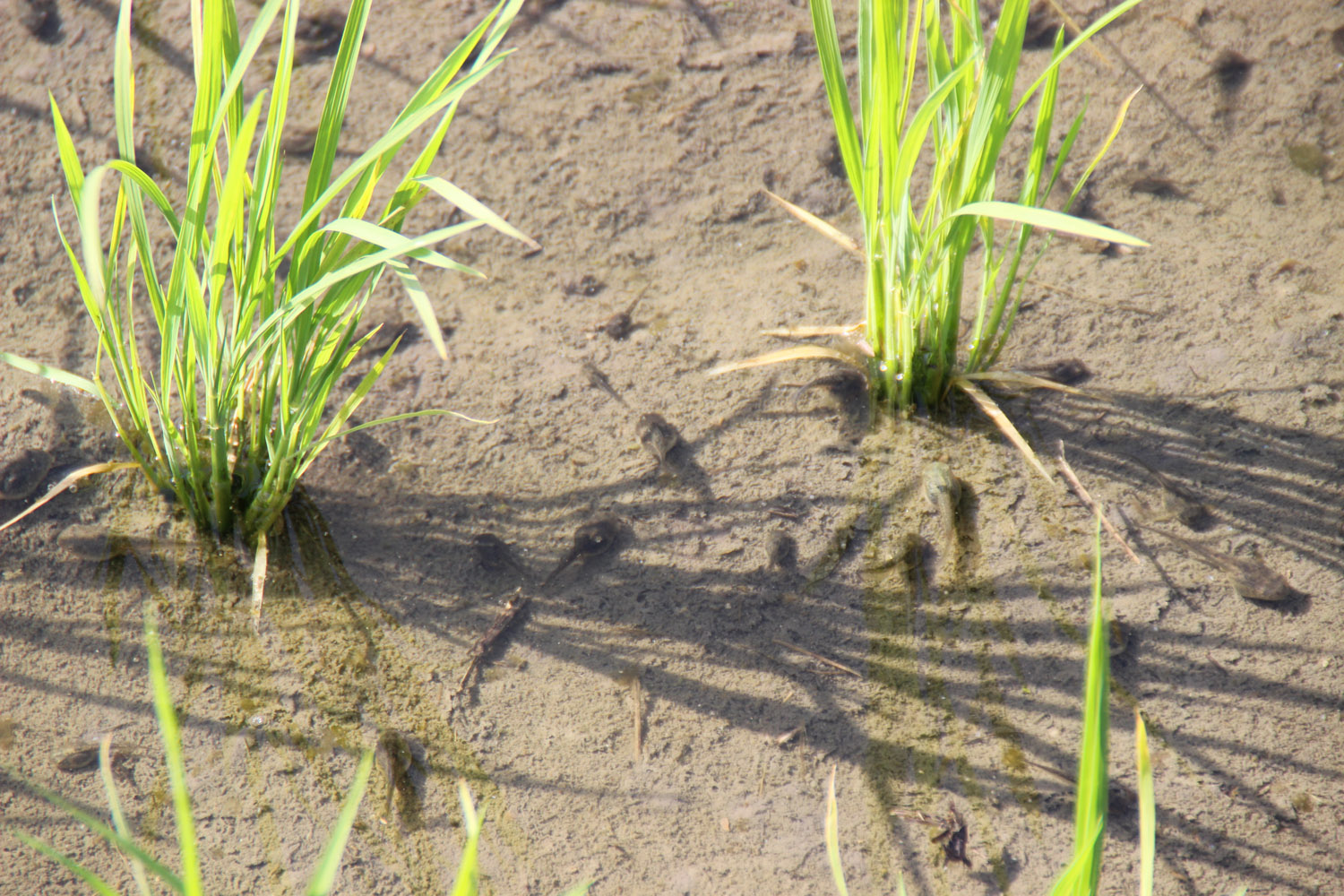 Just in general, Kin and I both tend to be fairly strong tadpole enthusiasts. But before you dismiss our joys as irrelevant, be aware that there are good reasons for everyone to be happy to hear croaking coming from the rice fields at night.
Basically, pretty much EVERY environmental toxin kills frogs. Pesticides kill frogs. Herbicides kill frogs. Heavy metals kill or deform frogs. ARTIFICIAL FERTILISERS can kill frogs! Frogs are like a food canary, dropping off their perches wherever agriculture gets too poisonous.
I'm Australian. Anyone who has ever had to go through Australian Customs understands that we tend to be somewhat cautious about disease. And when I say "cautious", really I mean "obsessively paranoid". I'm not even kidding. If we could irradiate all guests and their luggage at an only barely sublethal level, we probably would, but we can't because we're also paranoid about radiation. We even tend to be fairly cautious about pesticide and heavy metal pollution, not because we pollute less than other people (we're really not very virtuous), but because we have a lot of space and these things just don't get a chance to build up as much as in other countries.  As a rural and an organic gardener, I'm probably even more paranoid that most.
But when you see FROGS sitting around in your food, you know it's not as bad as all that. Sure, there's probably a lot going on that I still don't want to know about, but any lingering nasties are a lot less likely to be hanging around in water that has several generations of frogs sitting in it.
Discovery 6 – These lovelies in the hills around town!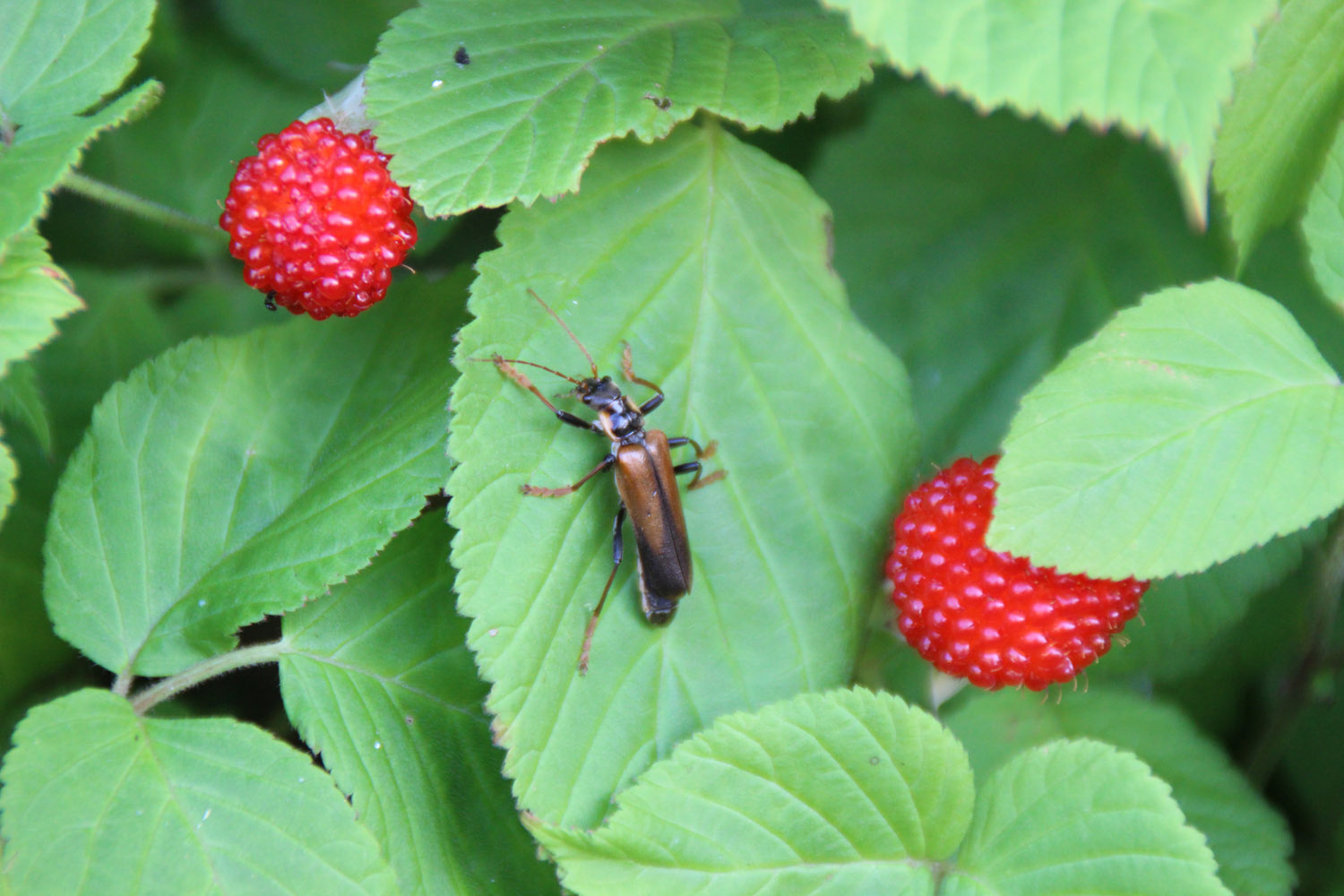 Kin and I both adore berries and I always have an eye out for free food, so we were thrilled to spot these wild raspberries and alpine strawberries on one of our weekend bike rides. The flavour of the raspberries isn't as sweet and full as that of our garden cultivars and there will never be any comparing these little wild strawberries to the real thing, but they were a light and refreshing reward for a very long, hot bike ride and a wonderful treat for a pair whose food budget won't be able to stretch much further this week!
Discovery 7 – This beetle not only looks awesome, it SQUEAKS when you annoy it!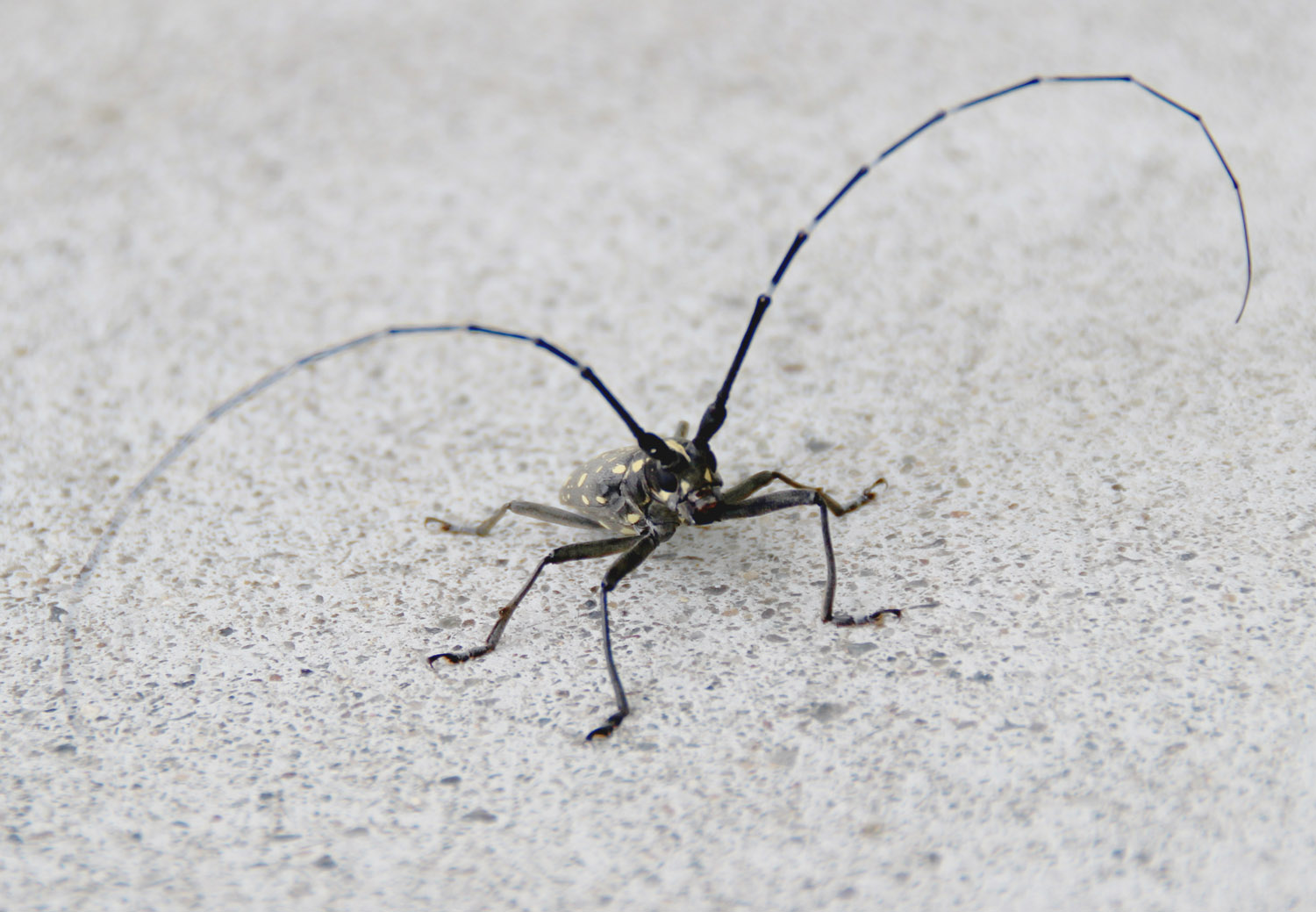 Seriously, it sounds like a furious rubber duck! Kin and I are going to hunt out as many of these guys as we can, and then we're going to POKE every single one of them!
(Well, the kids are all going on holiday soon. We need SOMETHING to annoy!)
What surprises are in your world this week? How is winter treating the Australians out there?
Keep it happy,
Gem
XX