Now Australia is beginning to settle into autumn, and the spring days here in Japan maintain their chill… Now, it is time to sing the song of soup.
O Soup, the nourishing
Soup, the tasty
O, Soup, ye friend of the poor and saviour of the lazy…
… not to mention, Soup, the best way I know of getting rid of whatever's going leggy in the garden, or leaky in the fridge. Or, Soup, how you can get five serves of vegetables into one meal, let alone one day. Or even Soup, a really good way of impressing lunch guests without really doing anything. 
But none of those really rhyme so well, do they?
Soup and Scheduling
I've spoken before about the importance of planning when you're trying to keep your diet properly balanced. If you're generally lazy (I am!), busy (I am!), or just someone who can't always be trusted to make decisions like a grownup (I am!), but you still want to keep everyone properly fed during the week, then you need to organise your kitchen ahead of time.
Soup is central to my day-to-day organisation. If you always keep a jug of soup and a bottle of salad dressing in the fridge, you will always have a lovely, vege-ful meal half organised before you even get home from work.
This is great for those days when you just plain don't feel like cooking or discover you have unexpected guests on a night you were planning to make scrambled eggs on toast. With about three minutes extra work, your scrambled eggs become an omelette, and you have soup, salad and toast ready to go with it! Salads and soups travel quite happily to work with you and will turn your lunchtime sandwich into a real meal. It also helps you feel better about those days when you haven't prepared, but you're already exhausted and just buy a barbequed chicken and some bread rolls on your way home from work. You're still giving everyone a decent, balanced meal, you're just not killing yourself to do it at a time when you just don't have the energy.
Soup is also another arrow in my quiver against the Healthy-Food-Costs-More brigade.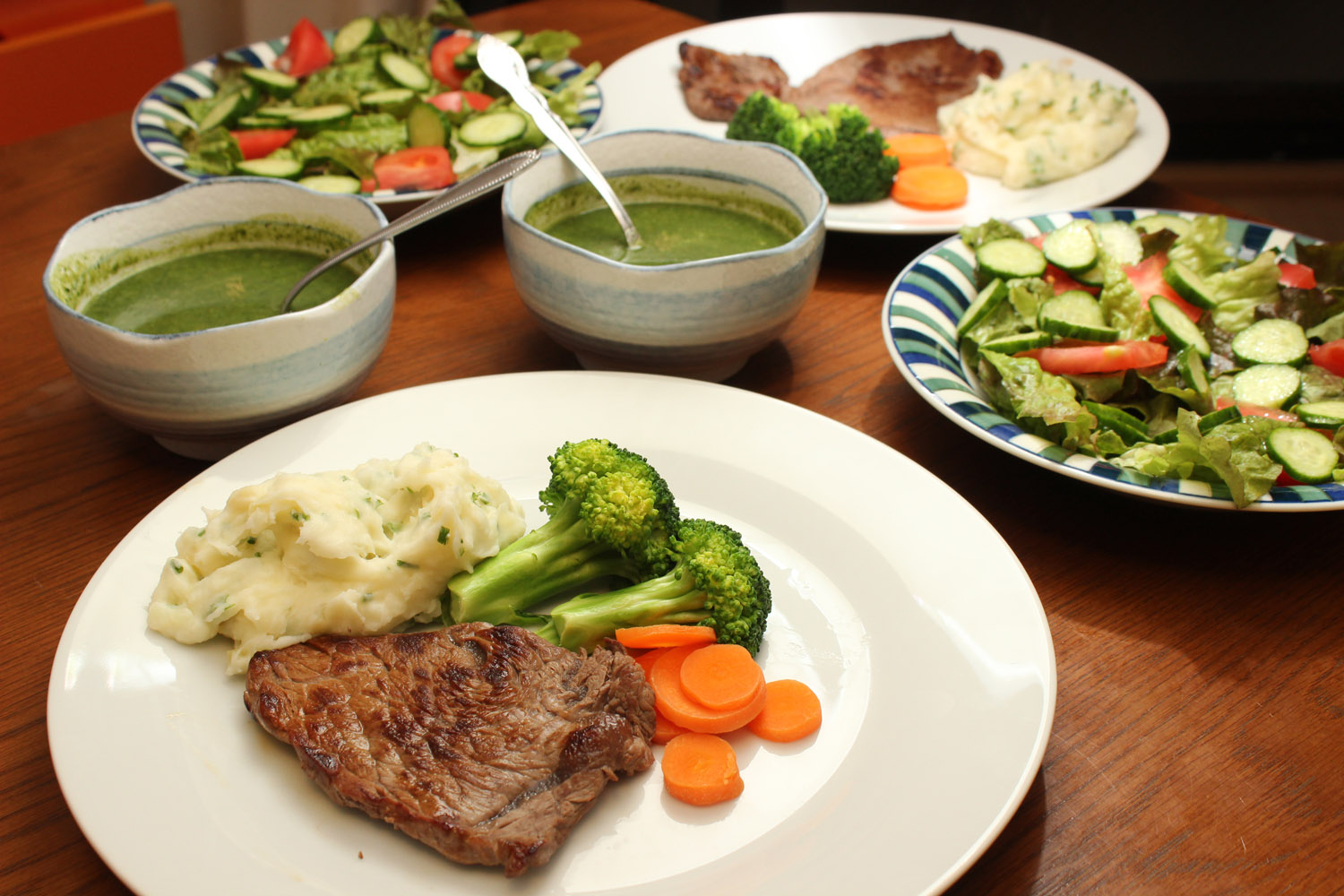 Getting Organised
Soup and salad dressing are both very simple to make. I shake up my salad dressing in an old squeezy-top mustard bottle that Kin washes out each time we empty it (about every month or so) and store it in the fridge. Just find an old jar, dump in a couple of tablespoons of a nice vinegar (we like a very acidic red wine vinegar), about double that of oil, salt, pepper and any additives that take your fancy (I often add about a tablespoon of Dijon mustard, crushed garlic or some parmesan shavings), shake it up and boom; vinaigrette dressing ready whenever you want it. Just give it another shake when it's time to squoodge some out.
(Here are some rather more precise recipes if you're nervous about that sort of thing. Or you can simply buy a nice, low kilojoule salad dressing to keep on hand).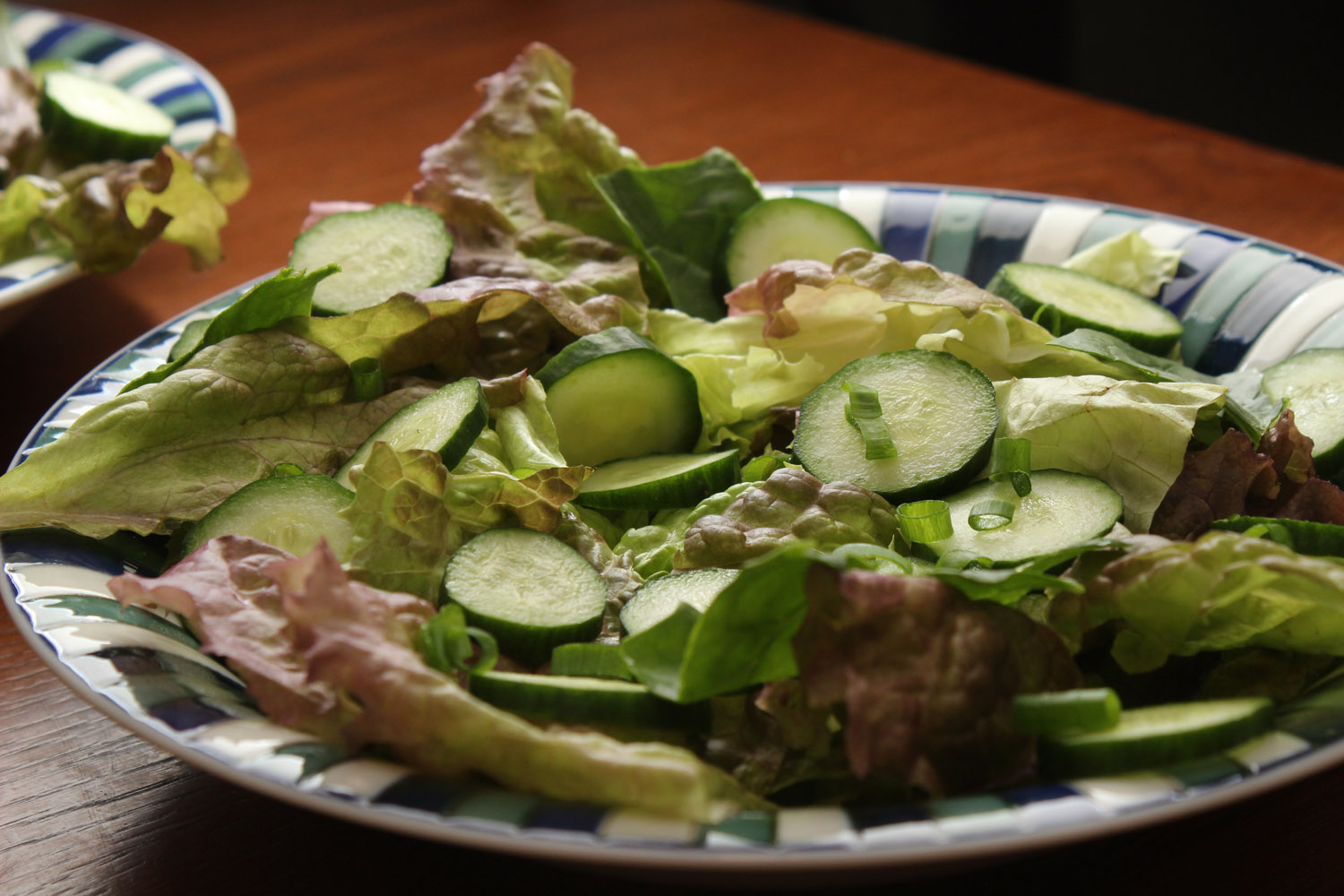 On the whole, though, it's even easier to construct a soup than it is to make a salad dressing, and it's a lot more impressive to visitors.
Basic Soup No 1: Green Velvet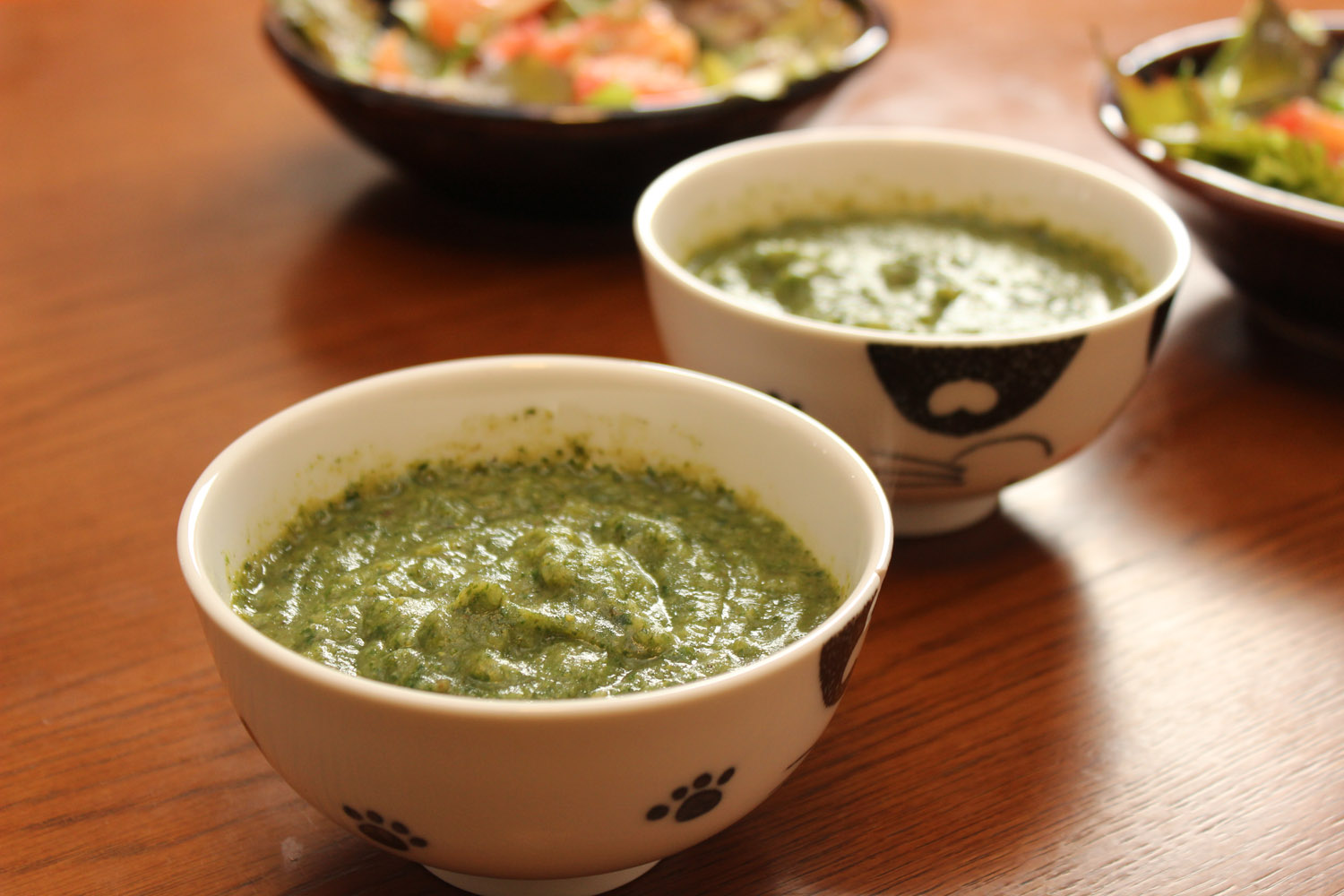 This soup is Kin's favourite; it's also the easiest soup I know! A basic soup like this just needs vegetables and stock. I usually use a liquid chicken stock for my soups, but there are no real rules when it comes to soup. If you are vegetarian, use vegetable stock. If you can't make liquid stock (I'm not very good at it, either) or afford to buy it, use cubes from the supermarket. Don't fret too much about getting things right; it's soup. Soup will forgive you for just about anything.
Ingredients:
1 head of broccoli, divided into small florets, stem chopped
1 bunch of spinach, washed
1 large onion, finely chopped
2 cloves garlic, crushed or finely chopped
2 largeish potatoes, peeled and chopped into cubes
1.2 litres of stock (or whatever. If you like a thicker soup, use less. If thinner, use more)
Splash of olive oil
Herbs or seasonings (see variation). Today's herbs for us are oregano, thyme and rosemary.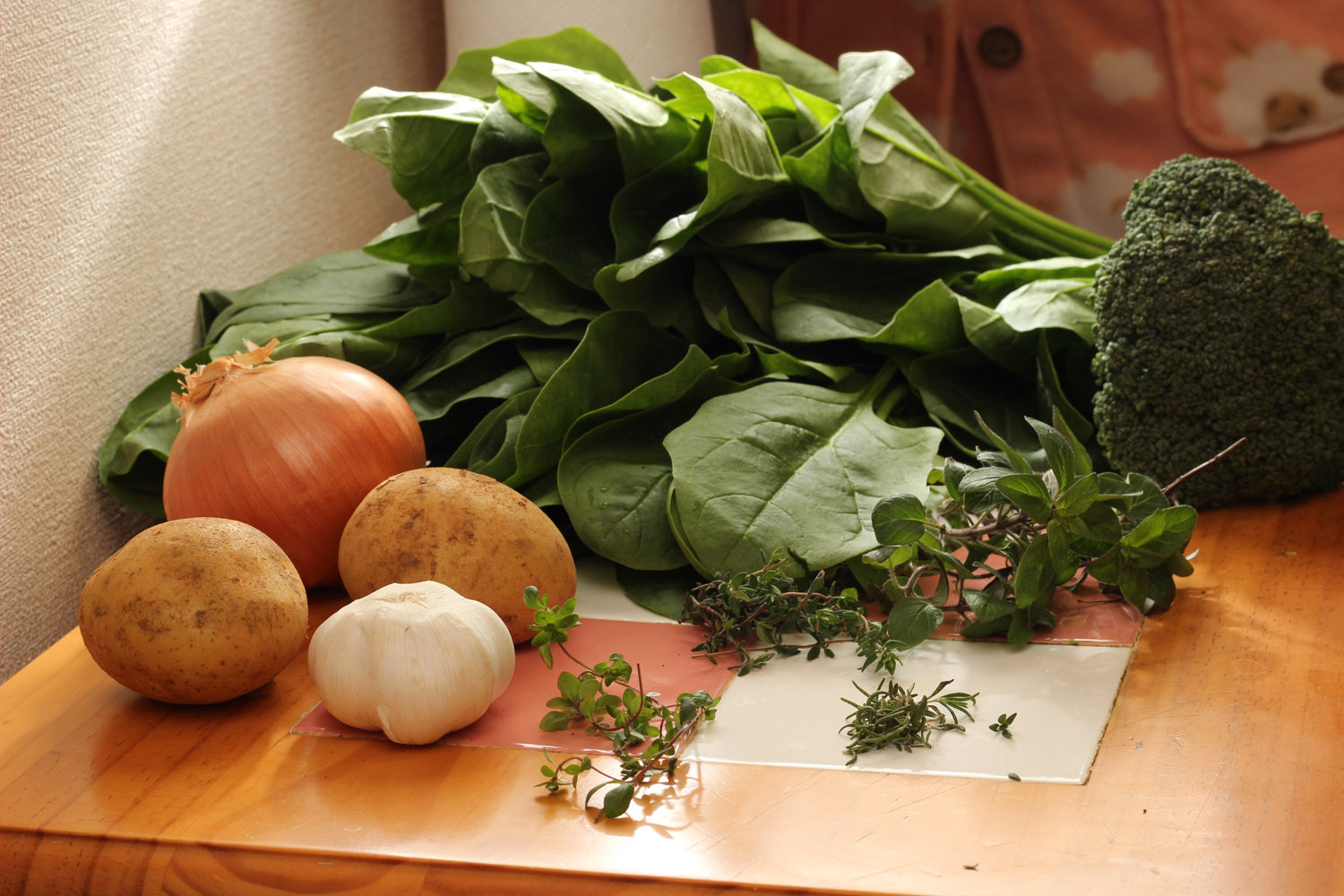 Method:
Heat the oil in a saucepan and brown the onion and garlic over a low-medium heat until softened (probably more than five minutes, probably less than ten. Again, it's soup; don't worry so much). Add the potato and stir fry for 2-3 minutes (if adding dried herbs, this is a good time. This is also when I add hard herbs like rosemary), then pour in the stock. Bring to the boil, and then simmer for about fifteen minutes, or until the potato is tender. Add the broccoli (and any other fresh herbs), simmer for about four minutes or until broccoli is tender, then add spinach. Stir through and turn off heat.
Liquify soup using a stick blender, food processor, or whatever you have on hand. If you don't have any of those things, go to an op shop or a pawn shop and buy one. I don't care how broke you are. Being able to make soup is going to save you more money than a second-hand stick blender could possibly cost you.
Pour soup into bowls and serve, or into containers to store in the fridge. I sometimes pop a swirl of cream in each bowl, but it isn't necessary. This soup reheats quite happily in the microwave and keeps for over a week in the fridge.
Variation: Leave out the herbs and instead add half a teaspoon of cumin at the end of cooking. Serve each bowl with a blob of natural yoghurt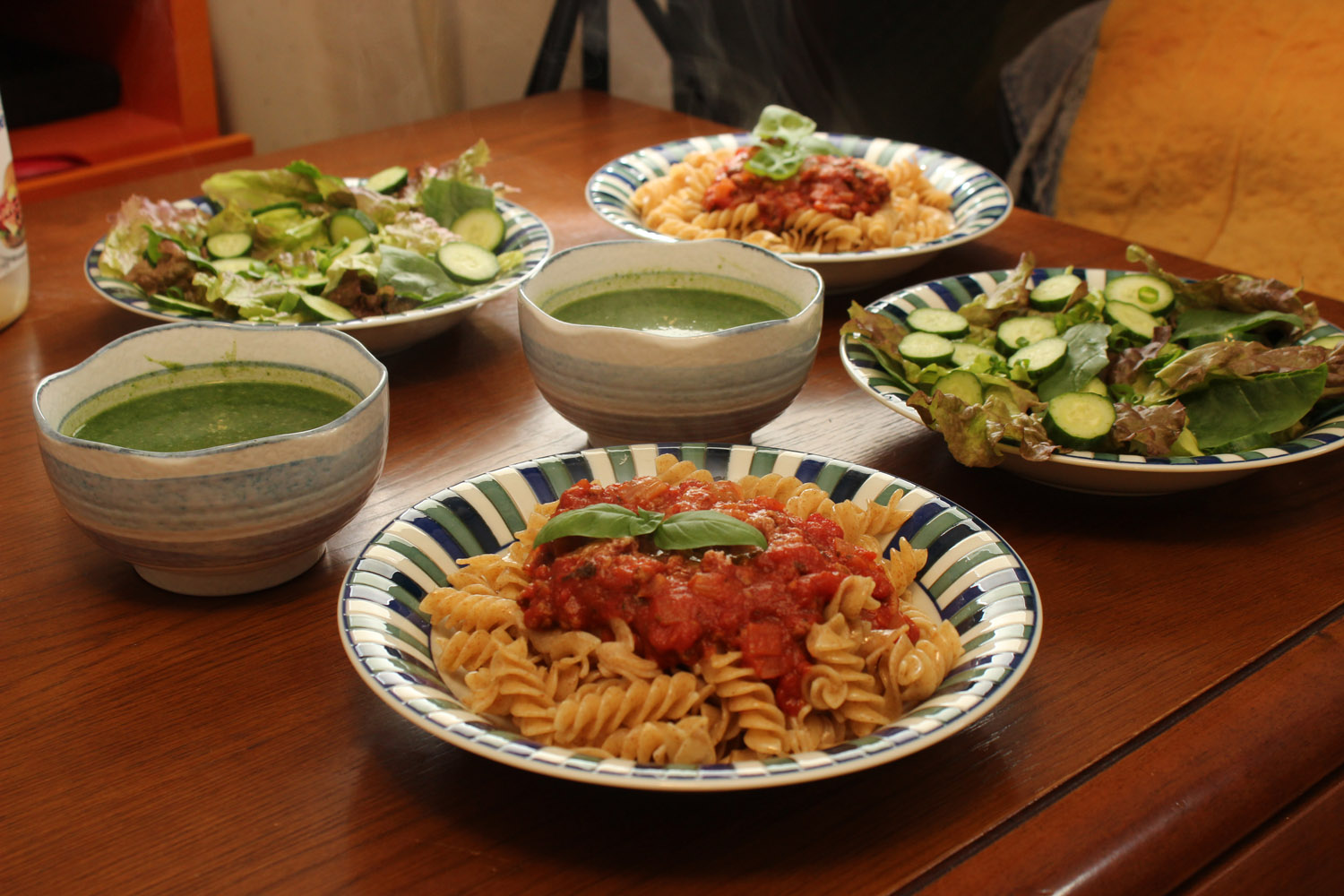 This soup can also be made with any sort of vegies you have lying around, like carrot, beans, zucchini and any sort of leafy greens. Just simmer hard veg for longer and add leafy veg toward the end of cooking time. If you like a thick soup, add more potato. If you like a thin soup, add more stock. However you make it, it will always be delicious. It will also be cheap and give you a hefty serve of vitamins and fibre with every verdant bowlful.
What other sort of soup recipes would you like to see? Or does anyone have a good recipe of their own? I'll be back in my garden soon and I'll be on the lookout for nice ones.
Happy souping!
Gem
XX