By Gem
Those who've been Enroute for a while know that I have a decent collection of herbs and vegies potted up on the balcony to help supply our little kitchen. You'll also know that we recently went away for five days during the peak of summer. This is what greeted me when I returned: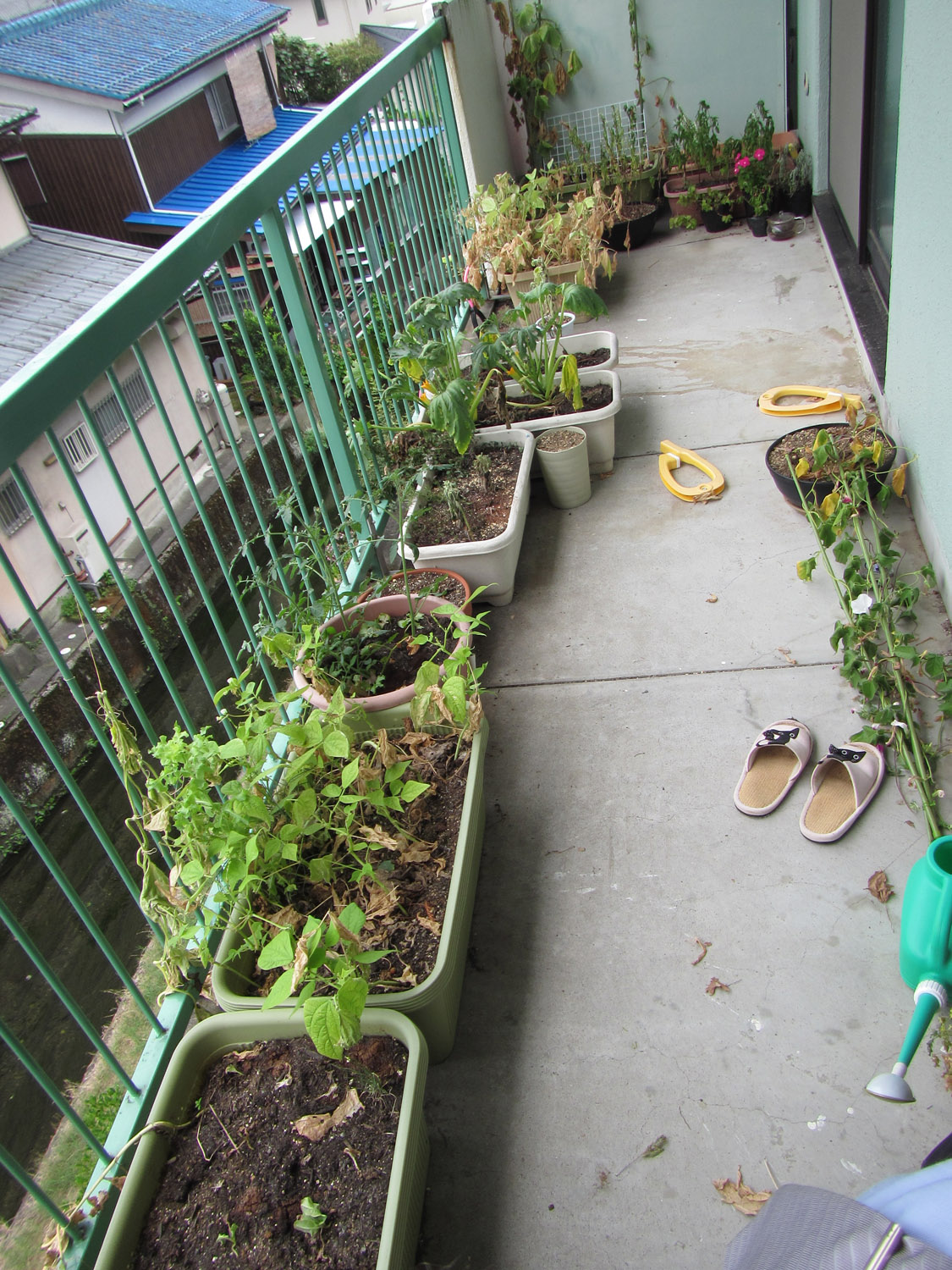 Yikes! Time for a repair job!
Making a Speedy Recovery
Speed is important right now for two reasons. Firstly, I want to get us eating our own produce again ASAP. Secondly, Shiga might be warm right now, but within a few months the cold will return. To fix your garden or start a new garden at a time like this, you need to think fast and make the right decisions about what to plant.
Here are my selections: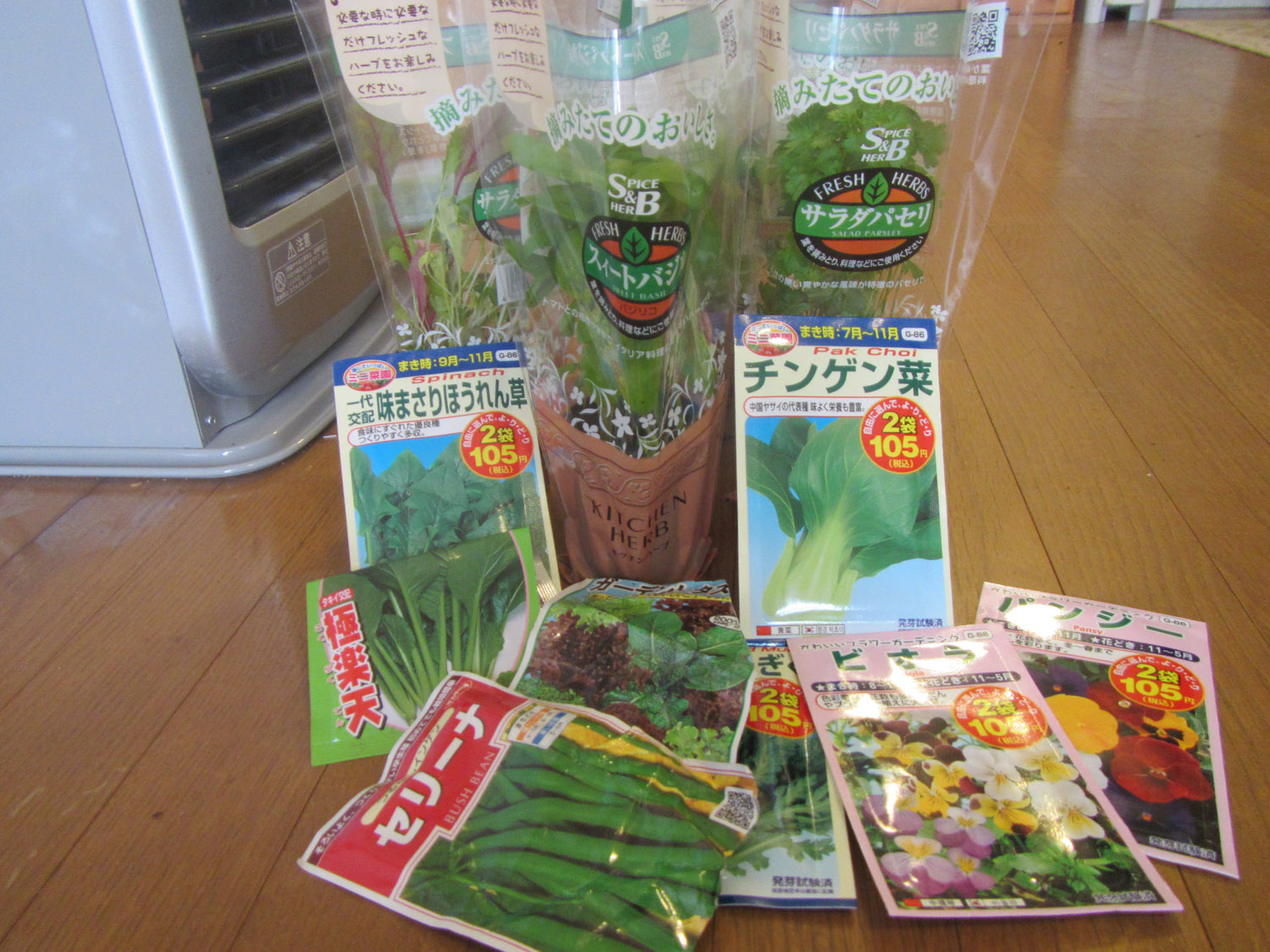 I've picked some fast-growing options for the short term and medium-length options to keep us eating until the snow flies (stupid Northern Hemisphere and its stupid "actual winters"). It's too late to replant any of the fruiting summer crops like tomatoes, cucumbers, or aubergines. Winter vegetables do exist, but I'm not used to snow OR to balcony gardening, so winter crops are probably beyond me as long as I'm in Japan.
My speedy selections are:
1- Supermarket Herb Pots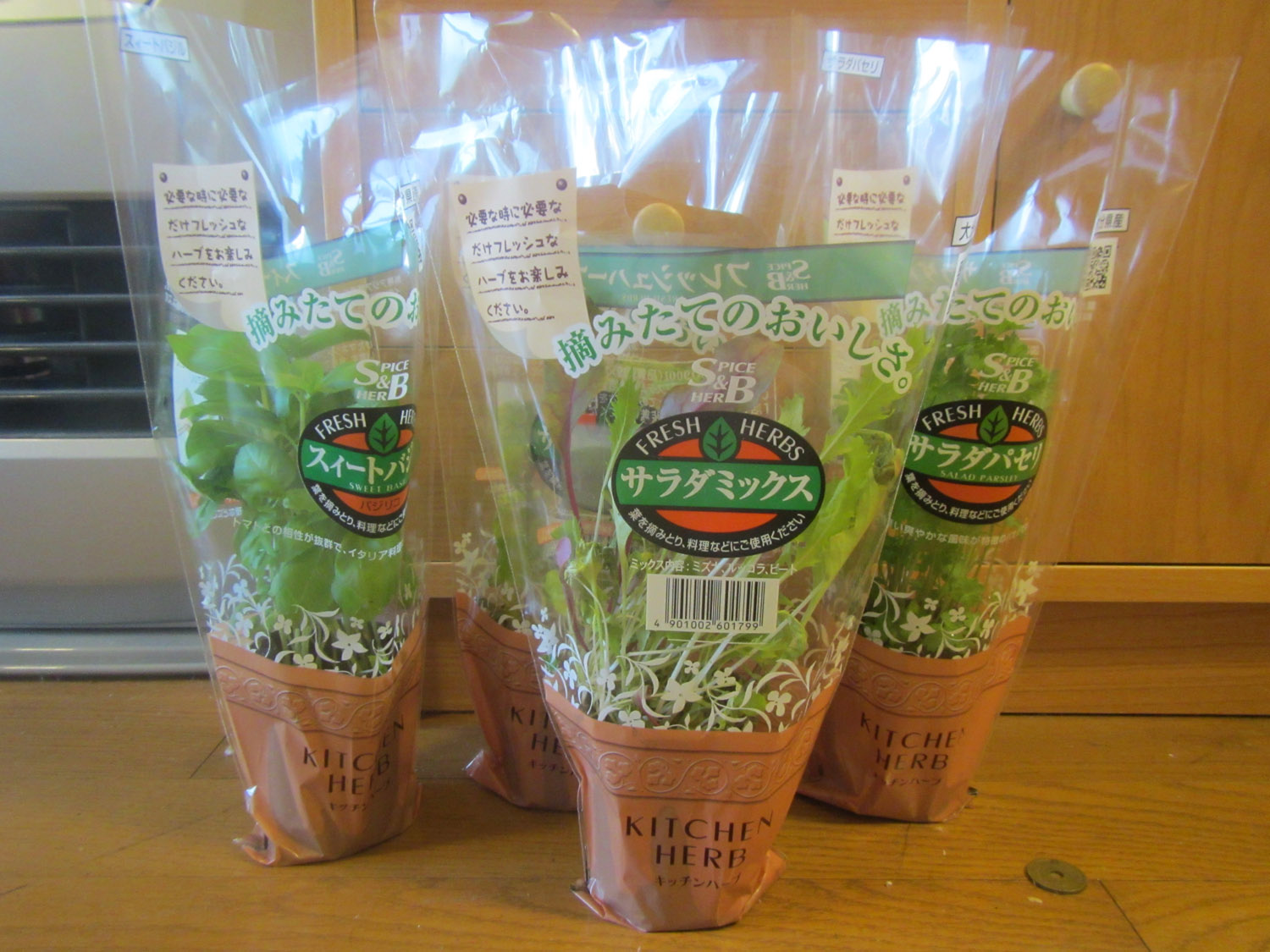 I bought basil, more flat-leaf parsley and two pots of salad herbs (lots of mizuna, not much lettuce from the looks. Bummer).
When money is no object, remember that the best seedlings always come from nurseries. The varieties are better-selected for home gardeners and the plants themselves are properly hardened, so they won't curl up their little toes and die on you the second the sun touches them.
When you're going cheap and nasty, though, supermarket herbs are a good option. These plants are intended for consumption rather than planting, so they are not even slightly hardened and will need a lot of cossetting from you. Generally, though, they cost half as much as proper plants and you usually get a lot per pot.
I gave my planters a very, very good soaking (seriously, the soil had gone badly hydrophobic, so I had to dig through every centimetre of soil and mix water through it. An easier way to do this is to simply purchase a soaking agent to help your soil absorb and retain water.) Then I planted the seedlings on an extremely overcast day and soaked them again. If the day had been sunny, I would have used pieces of cardboard to shield the plants.
2 – Asian Greens
Super cheap (because they grow from seed) and super-speedy, Asian greens are the shiznit. The seedlings will be established in just a few days and you can go from planting to cropping in just weeks. This speed and low cost also makes them a good option if you're into microgreens.
These little guys are also TOUGH and will take some fairly serious abuse from you as seedlings (although you'll want to start treating them nice when they get older, so that they'll crop well for you). I chose Kokurakuten (or spinach mustard) as well as Pak Choi and direct-planted them. My favourites are usually Choy Sum and Tatsoi, but I didn't find those here.
3 – Tomato Cuttings
"But Gem!" I hear you cry, "I thought you said it was too late to plant fruiting crops! Why are you recommending tomatoes at a time like this?"
It is too late to PLANT tomatoes, yes. But for a flush, late season crop, just when your tomato plants are getting a bit tired, tomato cuttings are brilliant (thank you, Jackie French!). The above picture is a cutting I took just a few weeks ago; it's already flowering and even has a spray of fruit.
The best way to take a tomato cutting is to select one of your best performers of that season and then mulch it REALLY heavily, or bury the lower branches in soil. Then, once some roots have started to form, yank that branch off and replant it. Bingo, brand new tomato plant, eight times the size of any seedling you could buy and one hundred percent ready for some serious, tomato-growing action.  If I hadn't already taken cuttings of my cherry tomato, I would do my best to find a surviving bit and do it now. They really do grow that fast!
4 – Violas
Tough, colorful and fast growing violas are always a good flower when you've got a bare spot or two and you're in a hurry. In Australia, my usual go-to options are huge pansy-faces and heartsease, but these look similar enough to get me by. You can plant violas almost any time at all, and as long as you take the most basic care of them, they will just keep on blooming for you. That includes the winter months of this stupid frozen hemisphere, although you'll want to get them indoors before Christmas. The only better option I know is alyssum, but that is harder to put in a vase (also, I can't find any).
5 – Mid-term vegies
These are still reasonably fast-growing options, just not up to the insane speed-levels of asian greens.
The speedier ones are lettuce and spinach (both for salads and for cooked dishes). I've planted these guys in seed-raising pots and will transplant them once they're a reasonable size.
Slower-growing, are beans and chrysanthemum greens. In warm weather (which this still is), the beans will shoot within a few days of planting and should crop for at least a little while before the weather gets too cold. The chrysanthemum greens take a moderate amount of time to grow, but are very cold-resistant and should survive the first part of winter, even if they don't get much bigger once the weather turns cold.
Luckily, despite heavy fatalities, there were some survivors, which means that my selections were probably a little different than if I had had no remaining assets in my garden.  My tomato cutting, some herbs (thyme, oregano, rosemary, chives, flat leafed parsley, lemon balm and sage), some flowers (pink cosmos, morning glory and New Guinea impatien) and, surprisingly the zucchini, although the early crop has been sacrificed. All of these plants look like hell, but they're already on the way to making a recovery.
I still weep for the fallen (especially the lettuce and my beautiful little miniature sunflowers!), but at least the damage has been repaired as far as I'm able and we won't have to wait until spring to have fresh food!
What are your speedy go-to crops?
Gem
XX