Tanabata (Australians might know the Chinese version, Qixi) is one of the nicest festivals of the year. In Shiga, there are several days of celebration, culminating on July 7th. This is the day that the cowherd prince Hikoboshi (Altair) and the weaver princess Orihime (Vega), separated by Heaven for neglecting their duties, are able to cross the Amanogawa (the Milky Way) to meet and reaffirm their love for one another.
Unfortunately, if it rains on this day, the lovers are unable to meet. Since Tanabata falls smack in the middle of the summer rainy season, you can imagine this happens quite a lot!
This year, the Nagahama skies were clear, so I guess the celestial couple successfully got it on. This also meant that there were no impediments to the humans wanting to celebrate the festival! There are some truly spectacular Tanabata celebrations out there, but ours was pleasantly low key. One of the major Tanabata traditions is writing wishes on pieces of colourful paper and tying them to bamboo branches, which are hung outside houses, shops and, at my school, classrooms.
Traditionally, girls wished for skills in needlework, while boys wished for good handwriting. These days, the kids wish for all sorts of things, but the emphasis is still on skills and personal improvement. For example, they might wish for certain personal attributes, such as being hardworking or cheerful, increased skills in games or schooling, or for good relationships with their peers.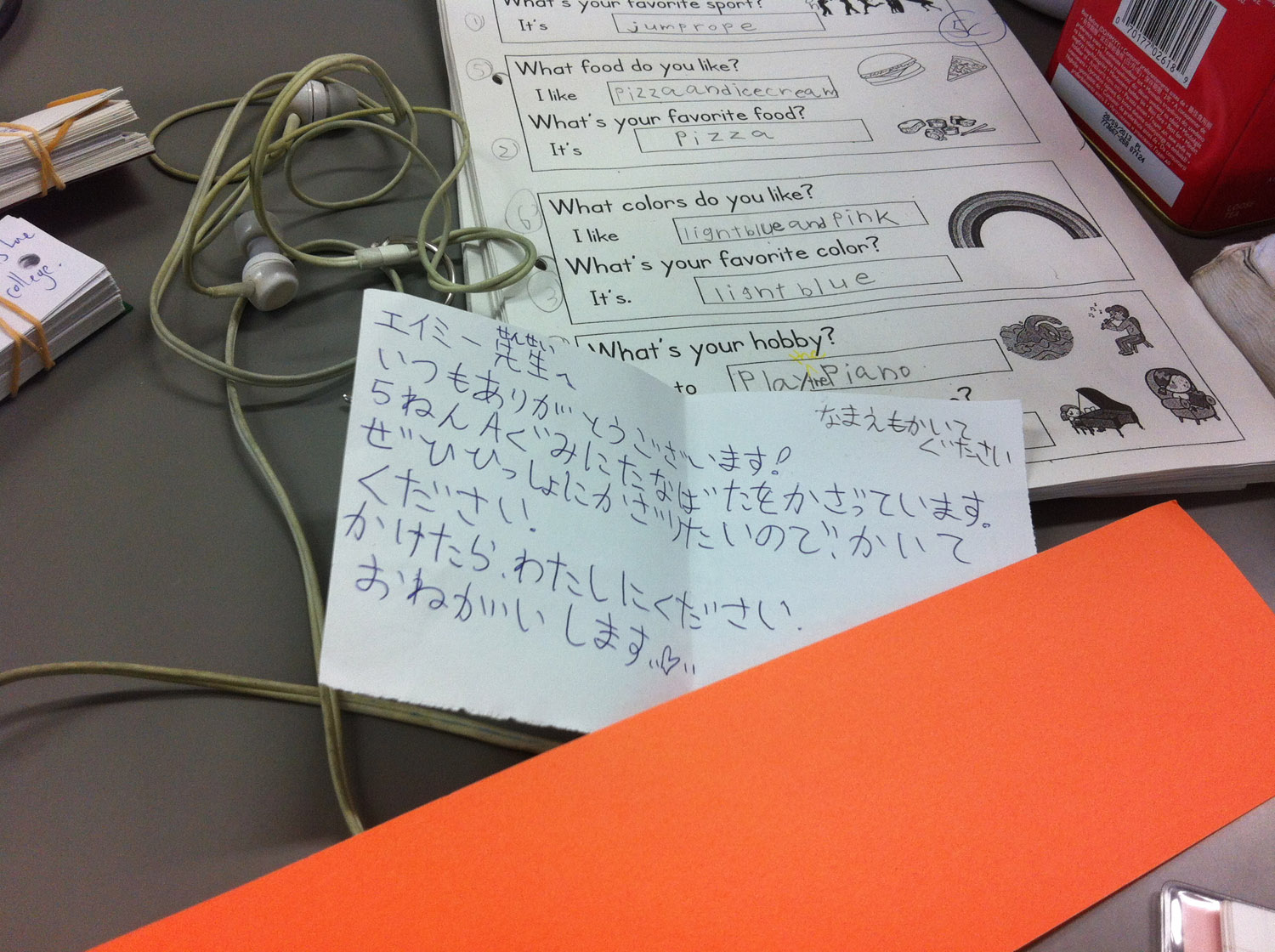 With all of this decorating and wishing going on, I shouldn't really have been surprised to start finding things like THIS on my desk; strips of paper in various colours along with requests to know MY wishes for the year.
It was actually really hard to think of one thing to wish for in front of my kids! My eventual wish was very obvious, but completely sincere: I want to be much, much better at Japanese by the time I have to go home. Some of my kids were sweet enough to say the same thing about English!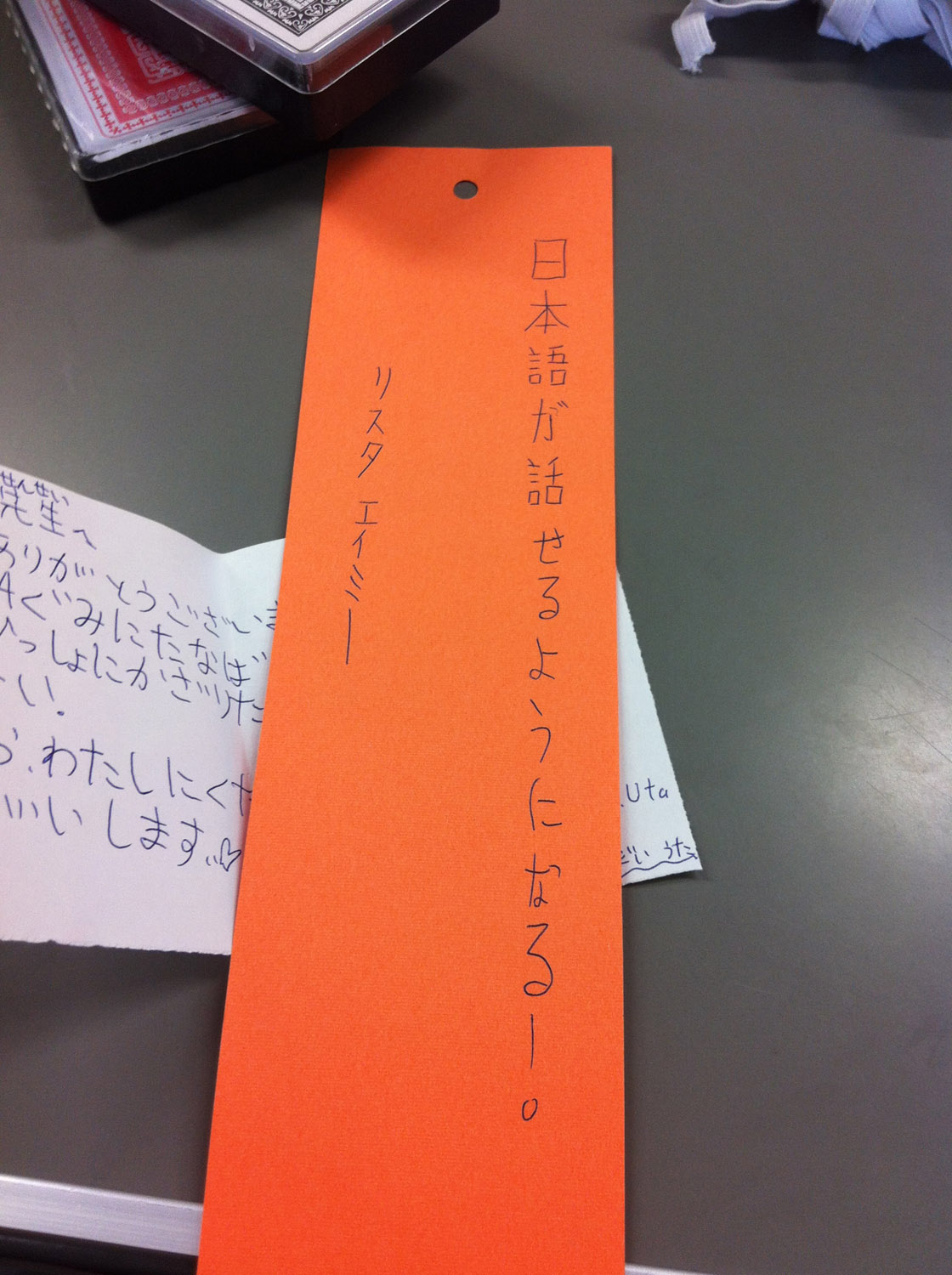 Still, while Japanese is a major learning area for me, it's not the only thing I want to study this year!  So, what other skills should I ask the star lady for this Tanabata…?
Kin is starting glass blowing classes (In this heat! I'm worried he might actually die!) and will be coming with me to my cooking lessons when the new round starts. This week I begin tea ceremony classes with a truly terrifying lady whose hair never, ever moves (the Japanese ladies pay hundreds for classes with this woman, but she seems to want to encourage ladylike behavior in her butch Australian neighbour, so I escape for about twenty bucks a month).
Less excitingly, I will:
Learn to braid my hair. Probably not as well as this (done by the ladies down the road, including the terrifying one) but I can at least make a start.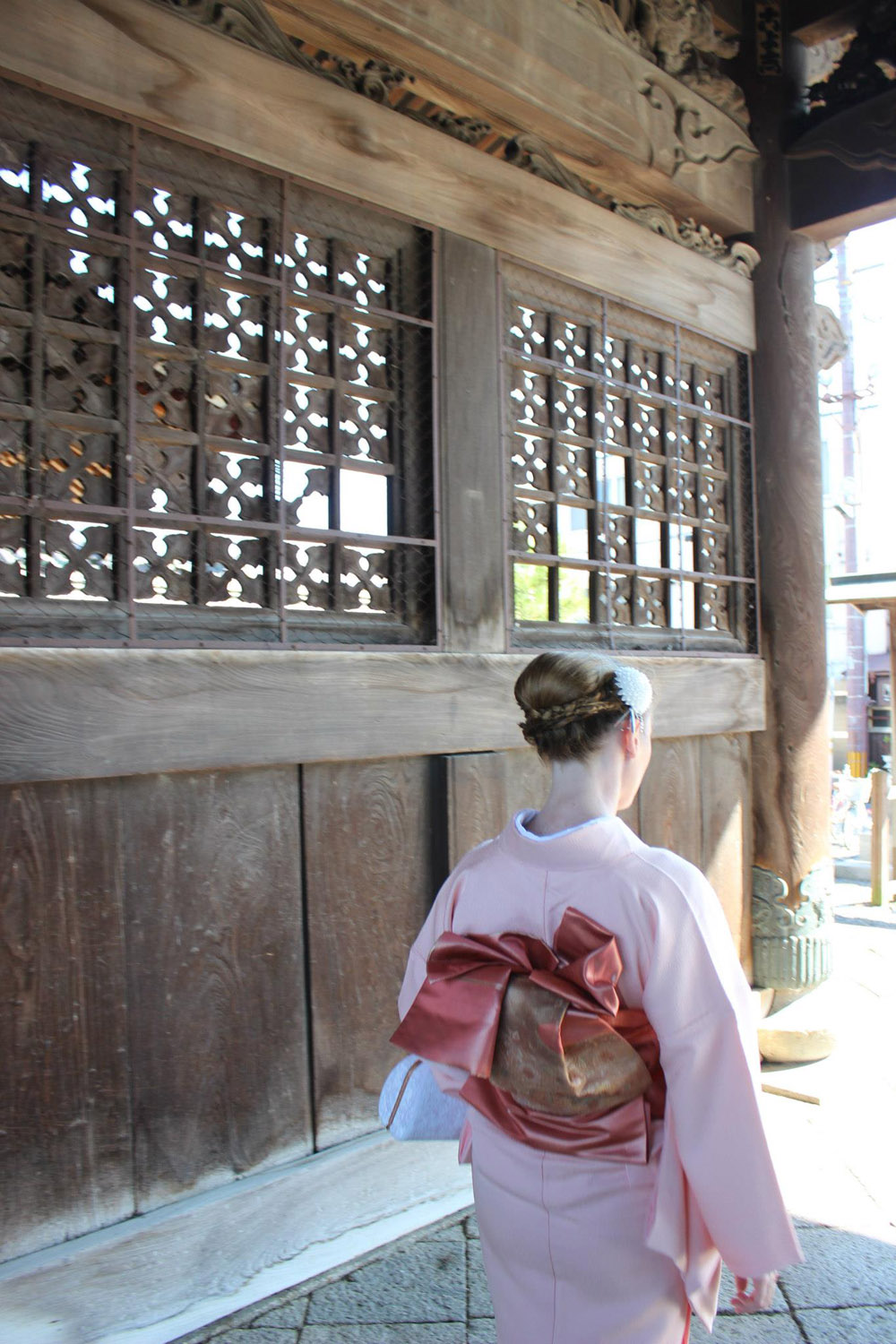 Learn to swim (properly). I'm Australian, so of course I can sploosh around in the water safely and even surf a bit. But I never learned to be a strong swimmer, and I never learned an overarm style. The HoneyJew is a swimming instructor back in the states, so I've asked her to help me out.
Poach a blasted egg! I'm a fair cook, but poached eggs and scones are two areas that have thus far completely eluded me. Scones can wait till next winter, but by golly, poached eggs are happening this month!
Finally learn to bloody knit and finish this wretched scarf for Kin. For the last two years, I have picked the damn thing up, done a few rows, made a mistake, unpicked a few rows, done a few more and then put it down again. This time, it's happening!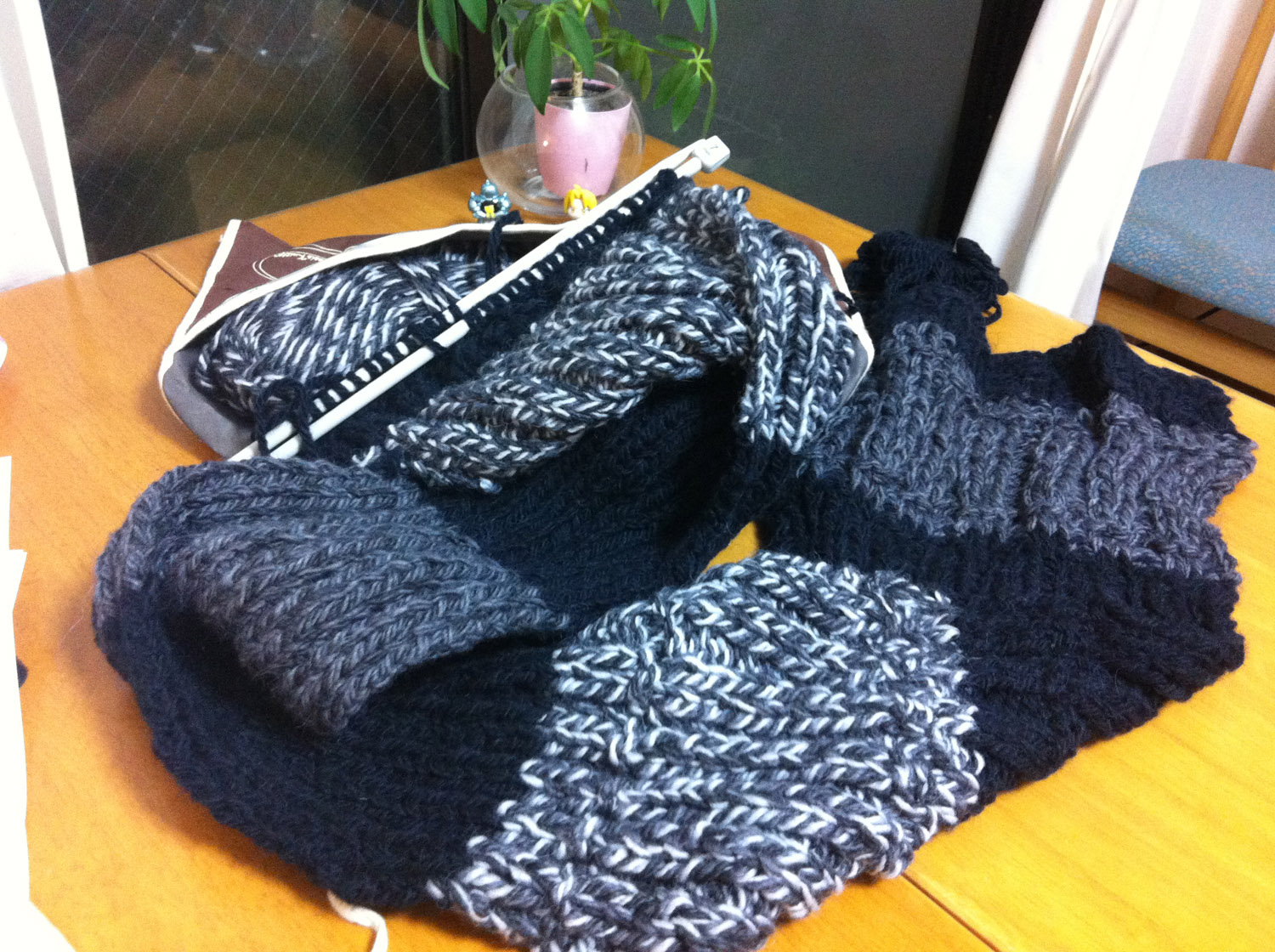 Learn to draw! This is my current, sorrowful ability level: 
But Kin, Master Illustrator, is going to teach me! I'll keep you updated with my progress (if any).
I love thinking about all the new things we're going to learn! It's so exciting! Does anyone else have any plans for Tanabata projects? What would you like to learn this year?
Gem
XX