WE-ARE-SO-TIRED!
Kin can't sleep at night because of the heat so, of course, I can't sleep either. In the morning, when it is a little cooler, I can't sleep because of the bright sun so, of course, nor can Kin! We're a very sad and weary pair right now and have been for about a month.
On the other hand, our next-door neighbours have a new baby that, no matter which one of us is awake, at whatever time, we always seem to hear crying. That's put our problems into some perspective; at least we're getting some sleep! That couple must be so exhausted, I'm sure they're close to crying as much as the baby.
So, after a bad night's sleep and a hard day's work, what better way is there to rejuvenate myself than with a lovely, home-made coffee (thank you, Kin!) and a lovely homemade coffee body scrub?
Recycling Coffee Grounds
Usually, Kin's used coffee grounds end up in the same place as my used tea leaves; fertilising our leafy greens! Recently, though, I've started swiping them for a different purpose. I don't know if it's a Japan thing or just my local area, but I have searched far and wide for a body scrub with no success at all. I DID find one tiny little tube of salt scrub which, not to mention how expensive it was, would be an absolute nightmare for my dry, cranky skin. So I've started making my own!
To start with I just scoured myself with the plain grounds, but after a bit of thinking, a bit of Googling and a bit of experimentation, I've come up with a recipe that makes me fairly happy.
Coffee Body Scrub
I'll do this in ratios, because not everyone uses Australian measures:
– 1 part coffee grounds
– 1 part brown sugar (what they call "brown" here is more like the stuff we call "raw" in Oz)
– 1/3 part olive oil
– Cocoa powder and vanilla essence.
I just mix all of these things together in a bowl, pop it into a little bathroom pot with a lid and voila! A gorgeous, extremely cheap scrub that works really, really well.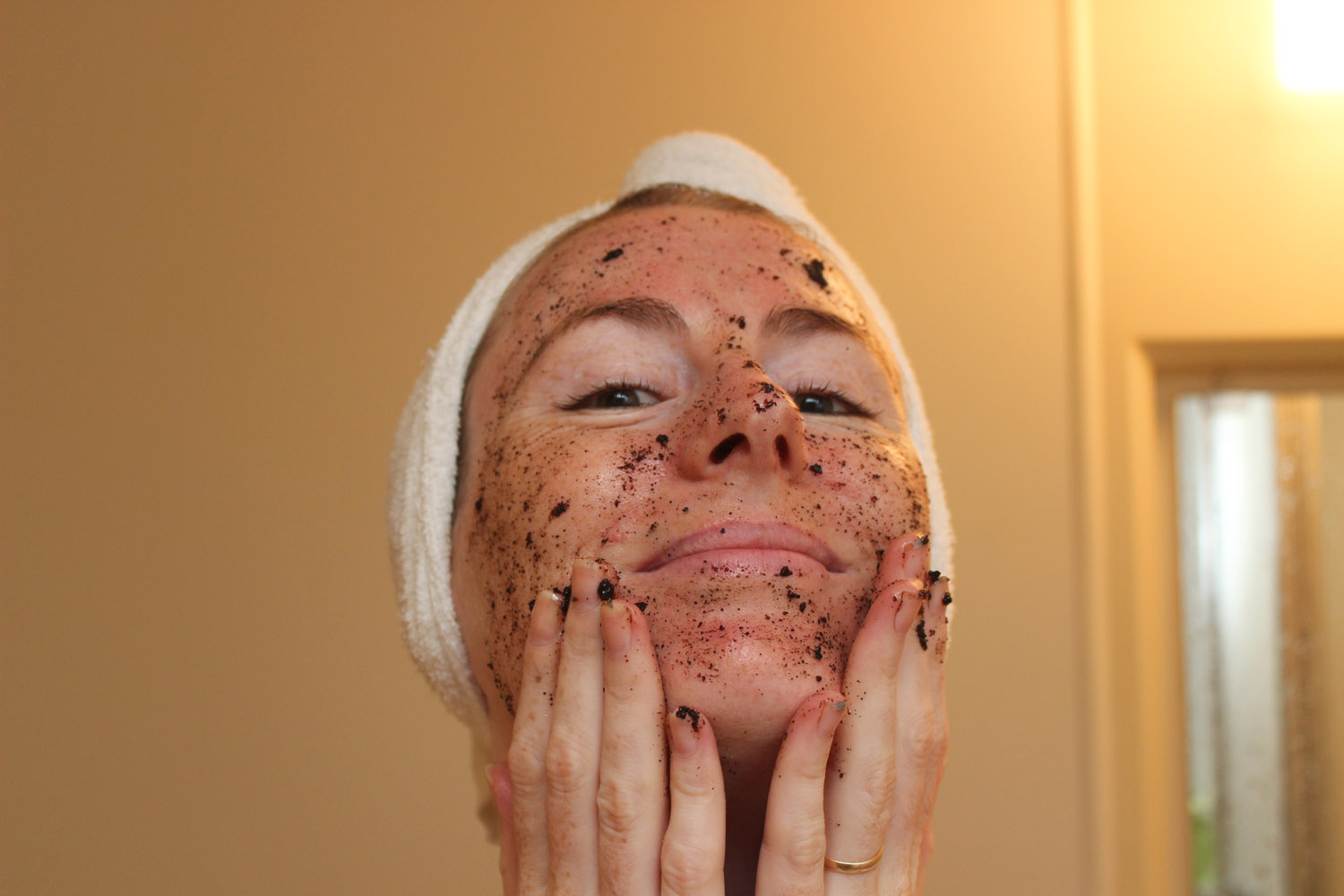 This scrub is honestly a bit too rough for the face (although I have no choice, so I'm using it anyway, just very gingerly). But for the bod, it's perfect and it smells absolutely divine. I chuck the cocoa and vanilla in there just to add to the scent (it stays on the skin so nicely). I know that cocoa flavenoids are supposed to be beneficial for skin health, but I'm pretty sure you need to ingest the stuff, not just slap it on yourself and hope. Ditto topical caffeine from the coffee; I'm pretty sure it needs to stay on the skin, not just get rubbed on and rinsed off.
This scrub would probably be really luxurious if you had sweet almond oil, or glycerine or all sorts of other things that I wouldn't be able to get here. But even with plain old olive oil, I'm happy.
For those manly folk who are scoffing at my recipe, I have one word for you: Solvol. But home-made, recycled-ingredient Solvol. Interested now? Every bearded eco-warrior needs something to get the bicycle grease or planting dirt off their hands. It's also good for beard dandruff or product buildup in your hair (although warning to blondes; we also discovered it will stain pale things, including hair!).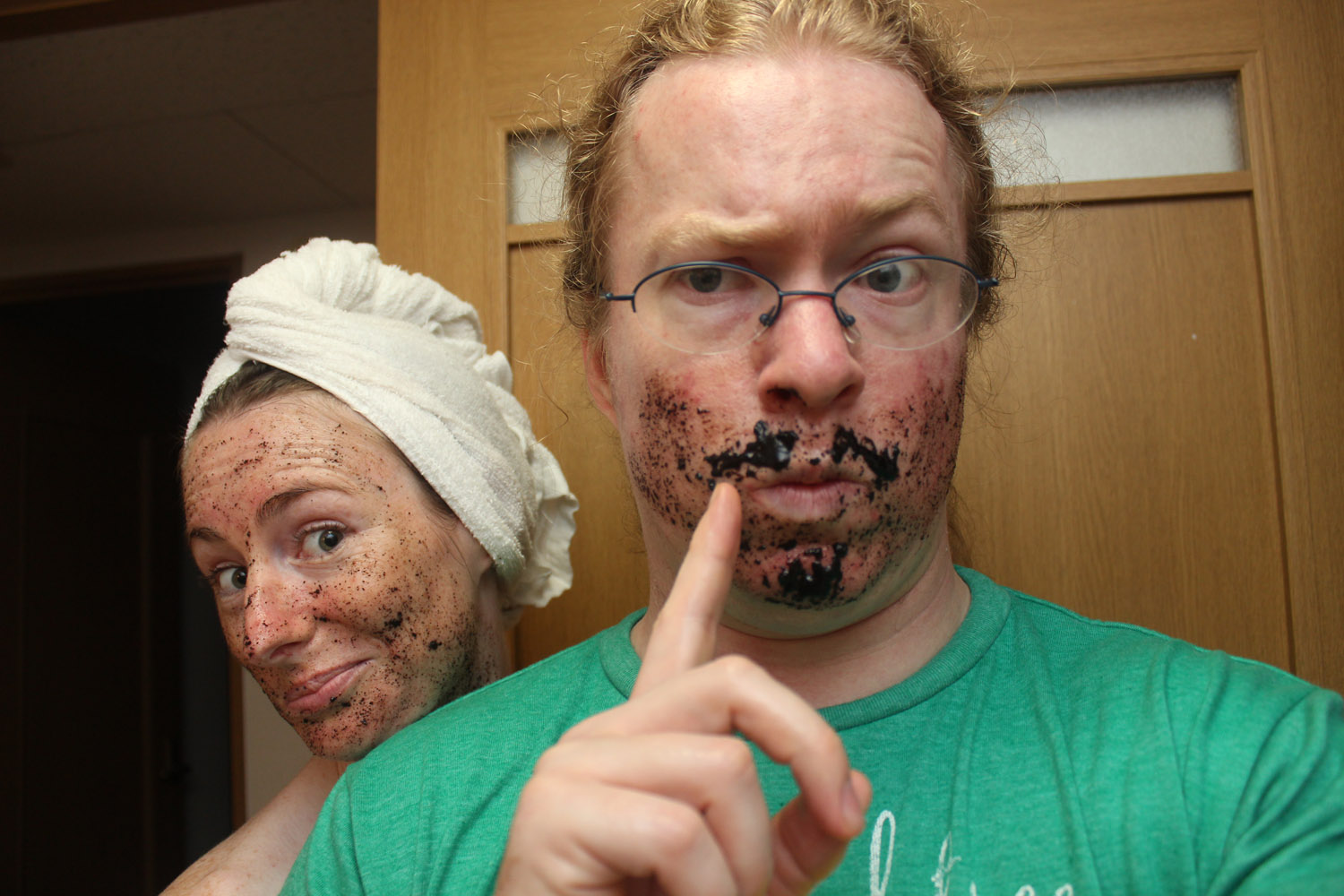 I love finding new ways of using things and this scrub has been a real winner. And even if I'm taking some of the lettuce's coffee grounds away from them, as long as this weather keeps up, Kin will keep producing plenty more! Are there any other uses for coffee grounds or tea leaves that I'm missing?
Gem
XX